Calculated Risk says "Hardly a plunge":
Calculated Risk: Thoughts on Housing Starts: Much has been made about the Seasonally Adjusted October drop in housing starts and permits reported yesterday. As an example, Reuters reported:

"A sharp drop in U.S. housing starts and permits for new building in October pointed to some cooling in the red-hot real estate market...".

And the Indianopolis Star headline screamed:

"Housing starts plunge in October"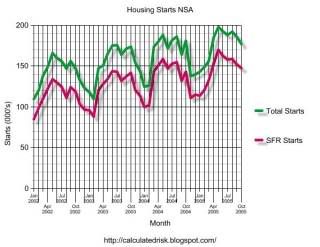 Click on graphs for larger image.
This graph shows the NSA housing starts for the last four years. Every year housing starts decline in the fall, yet the October housing starts are still near the peak summer pace for 2004. That is hardly a plunge.
The second graph shows October housing starts since 1980. Total starts in Oct, 2005 showed a small decline from Oct, 2004. But for one unit structures (SFR), 2005 was an all time record for October starts.

Hardly a plunge.

With rising inventories and rising interest rates, it is understandable that analysts are looking for confirmation that the housing market has slowed substantially. This isn't it.

Besides, permits and housing starts are historically lagging indicators for a housing slowdown. In addition to rising inventories, I believe the more timely indicators are falling mortgage applications and declining sales.
Posted by Mark Thoma on Saturday, November 19, 2005 at 12:35 AM in Economics, Housing | Permalink TrackBack (0) Comments (5)