Via Austin Frakt at The Incidental Economist, a chart showing the slowdown in the growth of Medicare spending:
Chart of the day: Medicare spending growth slowdown: From recent analysis by Michael Levine and Melinda Buntin of the CBO: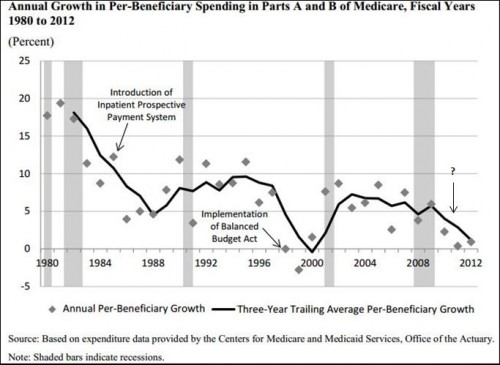 ...To try to identify the causes of that slowdown, we performed a series of descriptive and statistical analyses based on a diverse array of data sources. However, those analyses did not yield an explanation for most of the slowdown in spending growth.
Fully 75% of the 3.2 percentage point difference between 2000-2005 and 2007-2012 per beneficiary spending growth cannot be explained by payment rate changes, beneficiary demand due to age and health status, Part A only enrollment, prescription drug use, the financial crisis and economic downturn, supplemental coverage.
Needless to say, this is a big and important mystery.
Posted by Mark Thoma on Thursday, August 29, 2013 at 09:59 AM in Economics, Health Care | Permalink Comments (21)